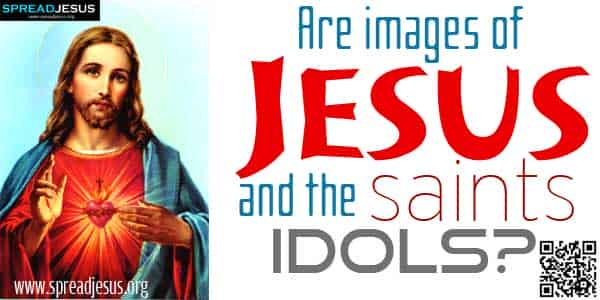 Are images of Jesus and the saints idols?
A story by Stephen Vincent Benet titled "By the Waters of Babylon" chronicles a traveller finding the ruins of a previous civilization. Throughout the story the hero kept coming across an idol of the god Ashing. At story's end the reader discovers Benet has looked into the future and the city of New York, after some great catastrophe. The idol is simply the ruins of a bust of George Washington. People can misinterpret, misconstrue and fail to understand what others are doing or have done.
The General Council of Nicaea II (A.D. 787) declared that it is permissible to show images of Christ, the Mother of God, angels and the saints reverent homage but not adoration which is due to God alone. The council said that the reverence shown to such images is veneration referred to the prototype. The Council of Trent renewed and repeated what Nicaea H had said. Trent again stressed the relative character of any such reverence.
Are those who carry photos of spouses or children in their wallets or display them on their desks "worshipping" them? Are all those tourists going out to see the Statue of Liberty in New York, the Lincoln Memorial in Washington, D.C., or the faces of the presidents on Mount Rushmore guilty of idolatry? Those statues, like pictures of George Washington in so many courthouses, are ways of honouring heroes from the past. They put us in touch with great people in our history. They become occasions for teaching children about the past and offering examples of great citizens.
Stained-glass windows, statues and paintings have long served these same purposes in the church. Crucifixes, statues of the Good Shepherd or Sacred Heart remind us of Jesus' sacrifice and love for us. Statues of Mary and the saints recall the heroism of the saints and suggest to us what we should strive to become (Catechism of the Catholic Church 2129-2132).
They are occasions for telling the children of today about the real saints and heroes of the past, for telling children what it means to live out their faith and religion. To all of us they offer the occasion to reflect and pray on the action of God in our lives. They help us to better sentiments of piety, call upon us to express our own faith and love. In honouring the saint we honour God who has worked such good and holy things in and through the saint.