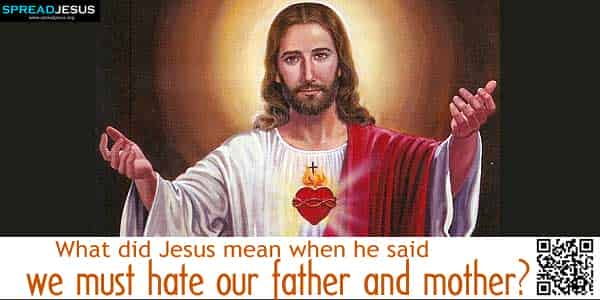 What did Jesus mean when he said
we must hate our father and mother?
-Christian Questions and answers
The New American Bible translation (the one we hear most often in our Sunday liturgy) of Luke 14:26-27, the relevant text, uses the words: "If anyone comes to me without hating his father and mother..."
The translation in the Today's English Version is: "Whoever comes to me cannot be my disciple unless he loves me more than he loves his father and his mother, and his wife and his children, his brothers and sisters, and himself as well."
Jerome Kodell, O.S.B., in The Gospel According to Luke (part of the New Testament series of the Collegeville Bible Commentary), states that the Greek word used in this quotation really does mean "hate" or "hating". But, he adds, this is a Semitic exaggeration. Jesus, as quoted by Luke, is stressing that a person who would become his disciple must be ready to renounce anyone who stands in the way of a complete commitment to him even the closest relative, such as father, mother, brother and sister. And later on in New Testament days, members of the early church really had to do that.
Kodell adds that hate in the sense of Jesus' words means "prefer less". And that is rather dose to Today's English Version, choice of "unless he loves me more than".
It is important to see and interpret a passage like this in the context of the whole Gospel and all of the Scriptures. When we compare what Jesus says here with other things that he did and said, we realize that he did not literally, without any qualification, mean we must detest or hate our parents. In other passages he reminds us we must observe the commandments, including the commandment to honour and respect our parents, and he rebukes those Pharisees who exempt themselves from caring for their parents by declaring their wealth dedicated to the Temple.