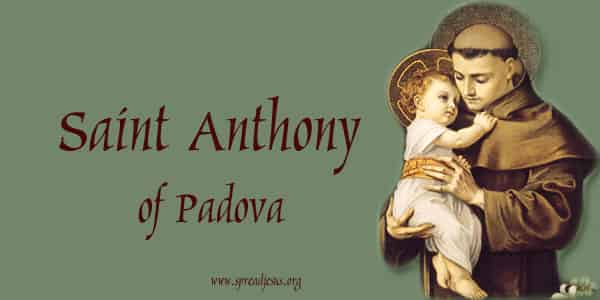 Saint Anthony of Padova, the great Miracle Worker.
Confessor and Doctor of the Church. He exercised his apostolic activity mainly in Padova (Italy), where he died on 13 June 1231. Less than one year after his death, Pope Gre gory IX declared him a Saint.
The veneration of Saint Anthony began immediately after his death. The rush of pilgrims was such, and his fame was so great that he heard all prayers and soon a magnificent Basilica was built over his tomb.
He is invoked especially to find back lost objects, also to make a good choice of one's vocation in life. The miracles obtained from God through his intercession are without number.
Listen to St. Bonaventure, speaking about those miracles:
"Are you looking for miracles?
Death, errors, disasters, the devil, the pest: all fly away; the sick get well; the sea obeys, shackles are broken, young and old recover the use of their limbs and find back what they have lost. Dangers vanish, needs disappear.
Let the inhabitants of Padova witness to these wonders, those who have experienced can speak!"