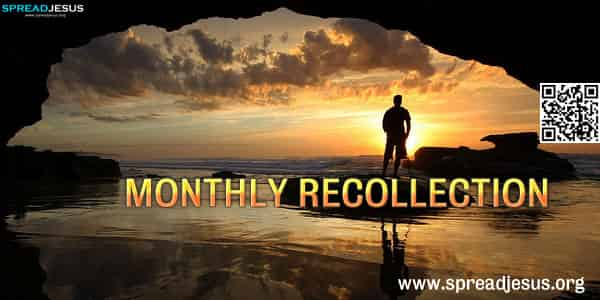 MONTHLY RECOLLECTION
-Christian Resource

One day of the month is specially set aside to reflect on our salvation. During the recollection we consider the purpose of our existence; we make a careful examination of our conduct in the past month; we conclude it with firm resolutions for the coming month and we prepare ourselves for a good death.
Each one of us ought to make a monthly examination upon our own particular resolutions in a profound spirit of humility and a lively hope in God's mercy which calls us to sanctity: "He chose us before the foundation of the world that we should be holy arid without blemish in his sight" (Eph. 1:4). Fidelity to the monthly recollection is one of the best signs of spiritual fervor.
Ideally, in a monthly recollection one meditation should be on the eternal truths; one on the duties of the state of life, and the last one on prayer (e.g., on the sacraments, devotions, pious practices, etc).