The Fourth Station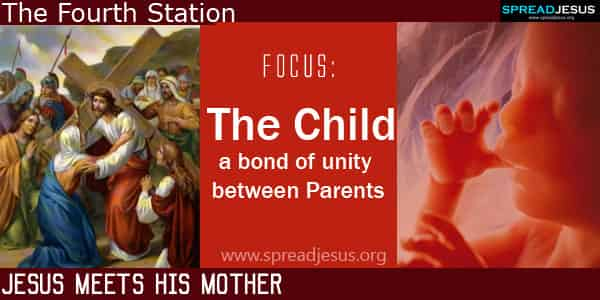 Jesus meets his mother
Focus: The child - a bond of unity between Parents
Leader: We adore you oh Christ and we praise you!
All: Because by your holy Cross, you have redeemed the world!
Jesus loved his mother and respected her. He now looks at her. Mary in turn, in her motherly love for Jesus, through the tender look in her eyes, imparts to Jesus the much-needed strength to bear the burden and pain of the sins of all humankind. What a significant union between mother and son!
(Pause for meditation)
Prayer: Lord Jesus, during your earthly life you gave an example to all families to work in unity, love, forbearance and sincerity for the support and maintenance of their homes. May Christian parents forget all discord and differences and accept their children as a precious gift from God and so nourish them in love. May they realize that every child, even in the womb, is an inseparable part of their family and that, as parents, they have the bounden duty and responsibility to protect its innocent life with true parental love.
Our Father in heaven …
Leader: Forgive us the sins committed against these little souls and have mercy on us Oh Lord!
All: Have mercy on us!