The Seventh Station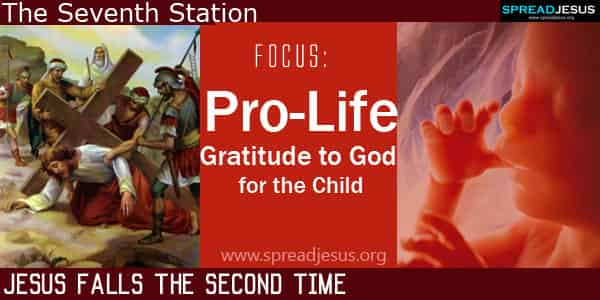 Jesus falls the second time
Focus: Pro-Life - Gratitude to God for the Child
Leader: We adore you oh Christ and we praise you!
All: Because by your holy Cross, you have redeemed the world!
How heavy must have been the burden of our sins, making Jesus fall under the cross a second time! The rough and thorny way of the cross, the beating of the soldiers causing painful wounds, reduced his strength as he progressed towards Calvary. But as the pain and the weakness increased in Jesus, the desire of love for humanity increased in him even more. But alas! where was the person who could be the rightful recipient of that divine love?
(Pause for meditation)
Prayer: Oh Lord Jesus, in today's world many families support the dignity and beauty of life. But some have fallen into the terrible sin of abortion. Through the grace of your falling under the heavy weight of the Cross make them understand that it is their duty to save their babies' lives. Infuse in them the desire to accept the gift of their children in gratitude to God. Inspire them to be reconciled to you by availing of your grace in the Sacrament of Reconciliation. And then, Lord, prevent them from becoming slaves a second time to this evil, we pray!
Our Father in heaven…..
Leader: Forgive us the sins committed against these little souls and have mercy on us Oh Lord!
All: Have mercy on us!