The Tenth Station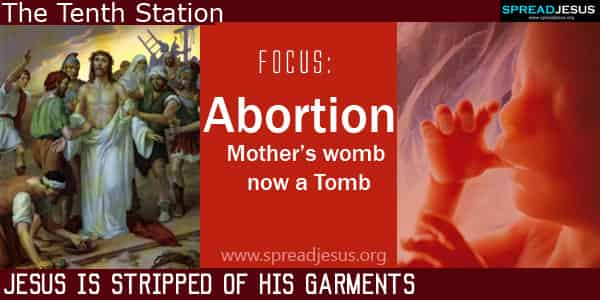 Jesus is stripped of his garments
Focus: Abortion - Mother's womb now a Tomb
Leader: We adore you oh Christ and we praise you!
All: Because by your holy Cross, you have redeemed the world!
The cruel soldiers strip Jesus of his garments and his body now lies naked before all to be mocked at. Great was the humiliation of Jesus, but the Son of God offered it up to his heavenly Father in expiation for every fall of humankind.
(Pause for meditation)
Prayer: Oh Lord Jesus, daily thousands and thousands of little babies are wilfully stripped of their existence within the confines of their mothers' wombs. They are discarded as garbage at street corners causing onlookers to say, "Look at that aborted foetus! An unwanted child of an unwed mother!" What wrong have these little innocents done? Please, Lord, enlighten us, we pray!
Our Father in heaven …..
Leader: Forgive us the sins committed against these little souls and have mercy on us Oh Lord!
All: Have mercy on us!