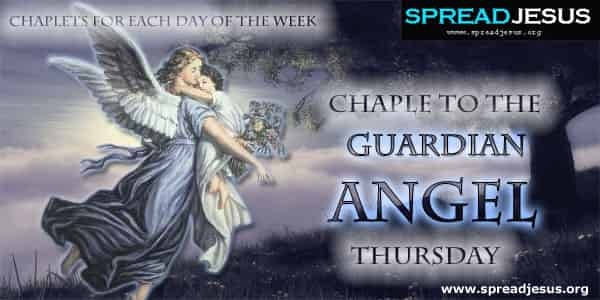 Thursday Chaplet To The Guardian Angel
1. Heavenly Father, the moment you created my soul, you gave me to the care of an angel that he might enlighten, guard, rule and govern me. I thank you or your infinite goodness to me.
I thank you also, my guardian angel, for ac companying me everyday on my journey back to heaven. It is a great comfort for me to know that you give me holy inspirations, that you defend me from dangers to soul and body and that you pray to the Father for me.
O angel of God, to whose guardianship I have been committed by the divine mercy, enlighten and guard, rule and govern me. Amen.
2. My guardian angel, you always contemplate the Lord and you want me to be your fellow-citizen in heaven.
I beg you to obtain for me pardon from the Lord for being very often deaf to your counsels, and for sinning, unmindful of your presence.
O angel of God,etc.
3. My guardian angel, faithful and strong in virtue, you are among the angels in heaven, who led by St Michael conquered satan and his follow ers. That fight of old continues on earth today: the prince of evil and his followers are against Jesus Christ to ensnare souls.
Pray to the immaculate Queen of Apostles for the Church, the city of God that fights against the city of satan. O archangel Saint Michael, with all your followers defend us in the war be our strength against the malice and snare of the demon, O that the Lord would subdue him! And you, the prince of the heavenly court, drive away into hell satan and the other evil spirits who seek to destroy souls.
O angel of God, etc.
4. O angels of paradise, take care of writers, technicians and distributors of audio-visual media and all those who use them.
Guard them from evil, guide them in truth and obtain for them true charity. Ask the Lord for necessary vocations for the apostolate of these media and accompany them in their delicate mission.
Inspire all people to contribute with deeds, prayers and offerings for the apostolate of social communications.
Enlighten, guard, rule and govern the world of audio-visual media, that they may serve to raise the standard of human life and to direct the human race towards the eternal goods.
O angel of God, etc.
5. AIl you angels of the Lord, you have been called to form a noble court, to praise and bless continuously the holy Trinity, to make up for our forgetfulness. You are true lovers of God and of souls, and you continue to sing, "Glory to God in the highest and peace on earth to men of goodwill".
We pray that all men may know the true and only God, the Son sent by him and the Church, the pillar of truth.
Pray that the name of God may be held holy, that the kingdom of Jesus Christ may come and his will may be done on earth as in heaven. Protect civil authorities, the workers and the suffering; obtain blessings and salvation for all those who search for truth, justice and peace.
O angel of God, etc.