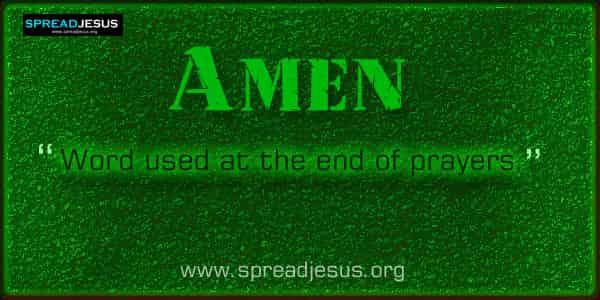 Amen
Word used at the end of prayers or at certain points in the Mass to indicate agreement and conclusion. Amen is a Hebrew word mean ing "so be it," and is used by the Israelites in the Old Testament to signify their acceptance of God's commands.
In the New Testament Gospels, it is said twice in order to emphasize the importance of the words that follow ("Amen, Amen, I say to you"). In the epistles, Amen is used as an exclamation of faith in God's prom ises and Christ's final victory over sin.
The Amen response is an important affirmation of the people through out the celebration of the Mass. It is said at the end of the Opening Prayer, the Prayer Over the Gifts, and the Prayer After Communion. The people also say or sing what is often referred to as the "Great Amen" at the end of the Eucharistic Prayer. They also respond with Amen at the point of receiving the body and blood of Christ at Communion.