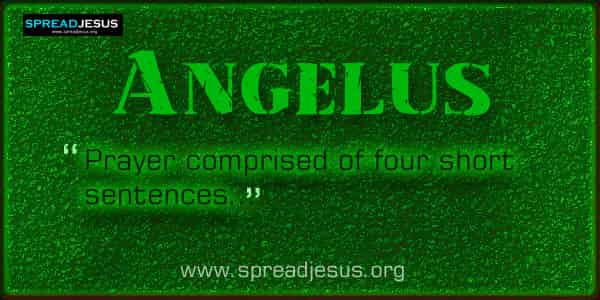 Angelus
Prayer comprised of four short sentences that are said by the officiator followed by four responses interspersed with Hail Marys and concluding with a petition for God's grace through the Incarnation. Its name comes from the opening words in Latin of the first sentence: Angelus Domini ("Angel of the Lord").
Today, this prayer is said morning, noon, and evening and accompa nied by the tolling of bells. Following the custom of his predecessors, Pope John Paul II recites the Angelus every Sunday from a window of the Apostolic Palace and concludes this recitation with his blessing. Historically, the Angelus is associated with peace as when Pope Callistus III ordered the daily ringing of the bells at midday with the praying of three Hail Marys for the success of the Crusades. Finally, Pope Benedict XIV stipulated that the Angelus be replaced by the Manan antiphon Regina Caeli during Easter time.
A certain order is followed for the ringing of the bells: they are tolled three times at each invocation and end with nine strokes for the recitatlon of the final prayer.It is customary for those saying the Angelus to kneel with the exception of Sundays and holy days, when it is prayed standing accompanied by a genuflection at the third sentence.