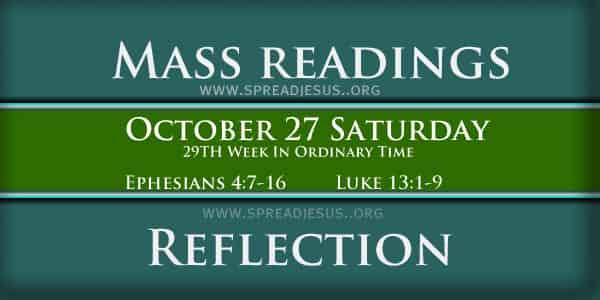 Catholic Mass Readings
October 27 Saturday
29th Week In Ordinary Time Year-B
The Letter of Paul to the Ephesians 4:7-16
On each one of us God's favour has been bestowed in whatever way Christ allotted it. That is why it says: He went up to the heights, took captives, he gave gifts to humanity.... And to some, his gift was that they should be apostles; to some prophets; to some, evangelists; to some, pastors and teachers; to knit God's holy people together for the work of service to build up the Body of Christ, until we all reach unity in faith and knowledge of the Son of God and form the perfect Man, fully mature with the fullness of Christ himself.... If we live by the truth and in love, we shall grow completely into Christ, who is the head by whom the whole Body is fitted and joined together, every joint adding its own strength, for each individual part to work according to its function. So the body grows until it has built itself up in love.
The Gospel According to Luke 13:1-9
Some people arrived and told Jesus about the Galileans whose blood Pilate had mingled with that of their sacrifices. At this he said to them, Do you suppose that these Galileans were worse sinners than any others, that this should have happened to them? They were not, I tell you. No; but unless you repent you will all perish as they did. Or those eighteen on whom the tower at Siloam fell, killing them all? Do you suppose that they were more guilty than all the other people living in Jerusalem? They were not, I tell you. No; but unless you repent you will all perish as they did. He told this parable, A man had a fig tree planted in his vineyard, and he came looking for fruit on it but found none. He said to his vinedresser, For three years Row I have been coming to look for fruit on this fig tree and finding none. Cut it down: why should it be taking up the ground? Sir, the man replied, leave it one more year and give me time to dig round it and manure it: it may bear fruit next year; if not, then you can cut it down.
Reflection
Natural calamities and accidental mishaps are not to be seen as God's punishment for our sins. But he lets them happen to warn us and to call us to a life of conversion. God is not Interested in the destruction of his creation. He is not a ruthless Destroyer but a merciful Saviour. He gives us warnings for our conversion and opportunities for our growth. St Paul tells the Ephesians that God gives various gifts to build up the body of Christ. God is most eager to build us up into the images of Christ. How do I collaborate with God in my personal transformation?