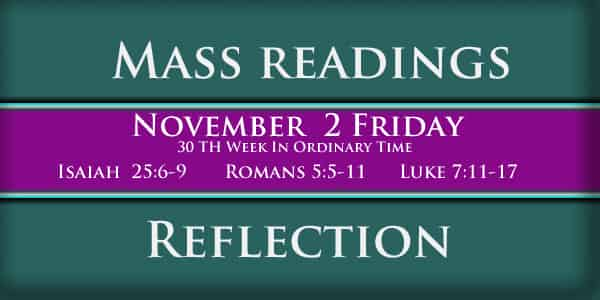 Catholic mass readings
November 02 Friday
30TH WEEK IN ORDINARY TIME
Isaiah 25:6-9
On this mountain, for all peoples, Yahweh Sabaoth is preparing a banquet of rich food, a banquet of fine wines, of succulent food, of well-strained wines. On this mountain, he has destroyed the veil which used to veil all peoples, the pall enveloping all nations; he has destroyed death for ever. Lord Yahweh has wiped away the tears from every cheek; he has taken his people's shame away everywhere on earth, for Yahweh has spoken. And on that day, it will be said, 'Look, this is our God, in him we put our hope that he should save us, this isYahweh, we put our hope in him. Let us exult and rejoice since he has saved us.'
Romans 5:5-11
Hope will not let us down, because the love of God has been poured into our hearts by the Holy Spirit which has been given to us. When we were still helpless, at the appointed time, Christ died for the godless. You could hardly find anyone ready to die even for someone upright; though it is just possible that, for a really good person, someone might undertake to die. So it is proof of God's own love for us, that Christ died for us while we were still sinners. How much more can we be sure, therefore, that, now that we have been justified by his death, we shall be saved through him from the retribution of God. For ،f, while we were enemies, we were reconciled to God through the death of his Son, how much more can we be sure that, being now reconciled, we shall be saved by his life. What is more, we are filled with exultant trust in God, through our Lord Jesus Christ, through whom we have already gained our reconciliation.
Luke 7:11-17
It happened that soon afterwards Jesus went to a town called Nain, accompanied by his disciples and a great number of people. Now when he was near the gate of the town there was a dead man being carried out, the only son of his mother, and she was a widow. And a considerable number of the townspeople was with her. When the Lord saw her he felt sorry for her and said to her, 'Don't cry.' Then he went up and touched the bier and the bearers stood still, and he said, 'Young man, I tell you: get up.' And the dead man sat up and began to talk, and Jesus gave him to his mother. Everyone was filled with awe and glorified God saying, 'A great prophet has risen up among us; God has visited his people.' And this view of him spread throughout Judaea and all over the countryside.
Reflection
In a number of places the gospel records that Jesus was "moved to the depths of his heart". Our English word "compassion" is a weak translation of the Hebrew word for "sympathy". Jesus not only grieved the untimely death of a youth, but he showed the depth of his concern for a woman who lost not only a husband, but an only child as well. The scriptures make it clear that God takes no pleasure in the death of anyone he desires life, not death. Jesus not only had compassion, he also had power the ability to restore life. Jesus, however, incurred grave risk by approaching the bier, since contact with a dead body made one ritually impure. His touch not only restored life but brought freedom and wholeness to soul as well as body. By the power of his word he restored the life of a dead boy. Jesus is Lord not only of the living but of the dead as well. Jesus triumphed over the grave and he promises that because he lives, we also shall live in him. Do you trust in the Lord's power to give life in the midst of calamities and misfortunes?