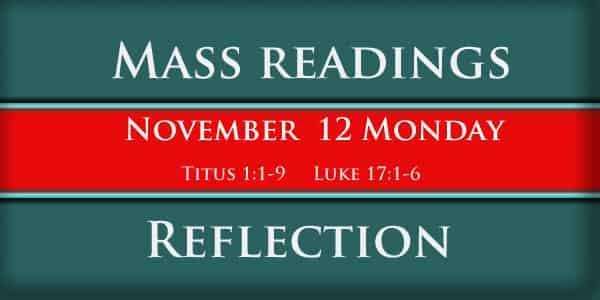 Catholic Mass Readings
November 12 Monday
32ND WEEK IN ORDINARY TIME
Titus 1:1-9
From Paul, servant of God, an apostle of Jesus Christ to bring those whom God has chosen to faith and to the knowledge of the truth that leads to true religion, and to give them the hope of the eternal life that was promised so long ago by God. He does not lie and so, in due time, he made known his message by a proclamation which was entrusted to me by the command of God our Savior. To Titus, true child of mine in the faith that we share. Grace and peace from God the Father and from Christ Jesus our Savior. The reason I left you behind in Crete was for you to organise everything that still had to be done and appoint elders in every town, in the way that I told you, that is, each of them must be a man of irreproachable character, husband of one wife, and his children must be believers and not liable to be charged with disorderly conduct or insubordination. The presiding elder has to be irreproachable since he is God's representative: never arrogant or hot-tempered, nor a heavy drinker or violent, nor avaricious; but hospitable and a lover of goodness; sensible, upright, devout and self-controlled; and he must have a firm grasp of the unchanging message of the tradition, so that he can be counted on both for giving encouragement in sound doctrine and for refuting those who argue against it.
Luke 17:1-6
Jesus said to his disciples, 'Causes of falling are sure to come, but alas for the one through whom they occur! It would be better for such a person to be thrown into the sea with a millstone round the neck than to be the downfall of a single one of these little ones. Keep watch on yourselves! If your brother does something wrong, rebuke him and, if he is sorry, forgive him. And if he wrongs you seven times a day and seven times comes back to you and says, "1 am sorry," you must forgive him.' The apostles said to the Lord, 'Increase our faith.' The Lord replied, 'If you had faith like a mustard seed you could say to this mulberry tree, "Be uprooted and planted in the sea," and it would obey you.'
Reflection
Jesus speaks of two forces at work in our lives the power of temptation to sin and the power of faith to overcome obstacles. The Jews held that it was an unforgivable sin to lead another to sin. If we lead another to sin, he in turn may lead still another, until a train of sin is set in motion with no foreseeable end. Jesus warns his disciples against setting a stumbling block in the way of another, that is, not to give offence or bad example that might lead another, especially the young in faith who are vulnerable, to sin. Jesus demonstrates the power of faith for overcoming temptation and obstacles through an active submission to God and a willingness to do whatever he commands. Do you trust in God's grace and power to resist temptation and to overcome obstacles in doing his will?