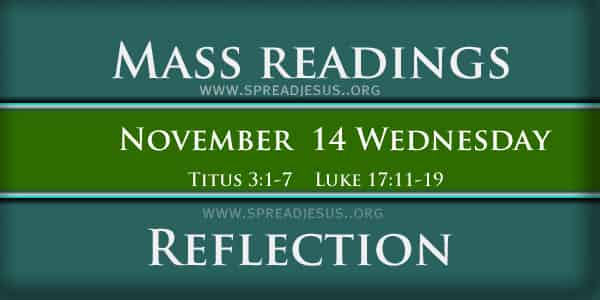 Catholic Mass Readings
November 14 Wednesday
32ND WEEK IN ORDINARY TIME
Titus 3:1-7
Remind them to be obedient to the officials in authority; to be ready to do good at every opportunity; not to go slandering other people but to be peaceable and gentle, and always polite to people of all kinds. There was a time when we too were ignorant, disobedient and misled and enslaved by different passions and dissipations; we lived then in wickedness and malice, hating each other and hateful ourselves. But when the kindness and love of God our Savior for humanity were revealed, it was not because of any upright actions we had done ourselves; it was for no reason except his own faithful love that he saved us, by means of the cleansing water of rebirth and renewal in the Holy Spirit which he has so generously poured over us through Jesus Christ our Savior; so that, justified by his grace, we should become heirs in hope of eternal life.
Luke 17:11-19
On the way to Jerusalem Jesus was travelling in the borderlands of Samaria and Galilee. As he entered one of the villages, ten men suffering from a virulent skin-disease came to meet him. They stood some way off and called to him, 'Jesus! Master! Take pity on us.' When he saw them he said, 'Go and show yourselves to the priests.' Now as they were going away they were cleansed. Finding himself cured, one of them turned back praising God at the top of his voice and threw himself prostrate at the feet of Jesus and thanked him. The man was a Samaritan. This led Jesus to say, 'Were not all ten made clean? The other nine, where are they? It seems that no one has come back to give praise to God, except this foreigner.' And he said to the man, 'Stand up and go on your way. Your faith has saved you.'
Reflection
Gratitude is the homage of the heart which responds with graciousness whenever a favor is received. The Samaritan approached Jesus reverently and gave praise to God. If we do not recognize and appreciate the mercy shown us we shall be ungrateful. Ingratitude is forgetfulness or a poor return for kindness received. Ingratitude easily leads to lack of charity and intolerance towards others. It easily leads to lack of charity towards others. How often have we been ungrateful to our parents, pastors, teachers and neighbors? Do you express gratitude to God for his mercy and do you show mercy to your neighbor?