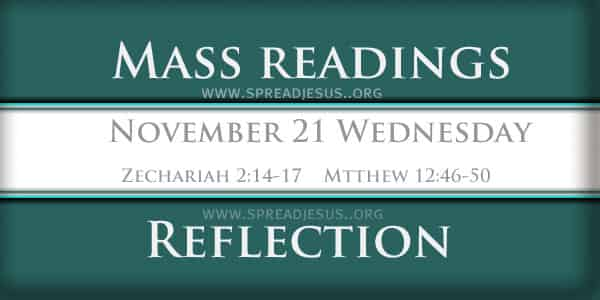 Catholic Mass Readings
November 21 Wednesday
33RD WEEK IN ORDINARY TIME
Zechariah 2:14-17
Sing, rejoice, daughter of Zion, for now I am coming to live among you Yahweh declares! And on that day many nations will be converted to Yahweh. Yes, they will become his people, and they will live among you. Then you will know that Yahweh Sabaoth has sent me to you! Yahweh will take possession of Judah, his portion in the Holy Land, and again make Jerusalem his choice. Let all people be silent before Yahweh, now that he is stirring from his holy dwelling!
Matthew 12:46-50
Jesus was still speaking to the crowds when suddenly his mother and his brothers were standing outside and were anxious to have a word with him. But to the man who told him this Jesus replied, 'Who is my mother? Who are my brothers?' And stretching out his hand towards his disciples he said, 'Here are my mother and my brothers. Anyone who does the will of my Father in heaven ،s my brother and sister and mother.'
Reflection
Today we commemorate the presentation of the child Mary in the Temple at Jerusalem. This feast was first kept in the eighth century symbolizing the consecration of her life to God. And indeed her entire life was spent doing the will of God, which Our Lord acknowledges in the Gospel. We share a relationship with God who has created us in His own image and likeness and all that we do in His name is our expression of gratitude to Him. When we use our talents and strengths for His glory we show Him we are grateful, when we reach out to help people we are expressing our gratitude, when we forgive those around us we are reciprocating God's goodness.