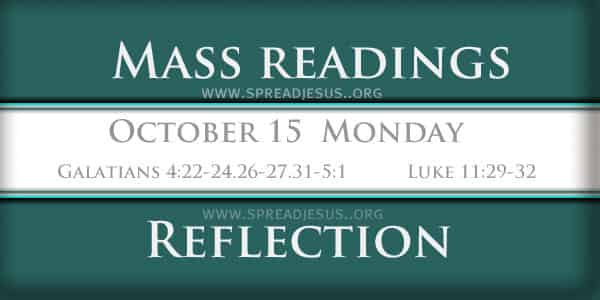 Catholic mass readings
and Reflection
October 15 Monday
28TH WEEK
Galatians 4:22-24.26-27.31-5:1
Scripture says that Abraham had two sons, one by the slave girl and one by the freewoman. The son of the slave girl came to be born in the way of human nature; but the son of the freewoman came to be born through a promise. There is an allegory here: these women stand for the two covenants. The one given on Mount Sinai — that is Hagar, whose children are born into slavery. But the Jerusalem above is free, and that is the one that is our mother; as scripture says: Shout for joy, you barren woman who has borne no children! Break into shouts of joy, you who were never in labour. For the sons of the forsaken one are more in number than the sons of the wedded wife. So, brothers, we are the children not of the slave girl but of the free woman. Christ set us free, so that we should remain free. Stand firm, then, and do not let yourselves be fastened again to the yoke of slavery.
Luke 11:29-32
The crowds got even bigger and Jesus addressed them, 'This is an evil generation; it is asking for a sign. The only sign it will be given is the sign of Jonah. For just as Jonah became a sign to the people of Nineveh, so will the Son of man be a sign to this generation. On Judgement Day the Queen of the South will stand up against the people of this generation and be their condemnation, because she came from the ends of the earth to hear the wisdom of Solomon; and, look, there is something greater than Solomon here. On Judgement Day the men of Nineveh will appear against this generation and be its condemnation, because when Jonah preached they repented; and, look, there is something greater than Jonah here.'
Reflection
"Blessed are those who hear the word ot od and bel leve But the Jews after hearing the word of God are not willing to believe it. Those who have some faith, everything becomes a sign and means to deepen their faith. Nothing can make them believe those who do not have any desire to believe, like a pot put upside down. Jesus did not work miracles and wonders as demonstrations of his power and glory. Instead they were supreme "signs" of God's love and compassion for the people. Almost all the miracles were performed as answers to man's need and prayer. Jesus' death and resurrection was the paramount sign of God's love for us. Jesus continues to teach and show us his Father's compassion through the sacraments which are signs of his love. How far do I realize God's mercy and compassion when I receive the sacraments?