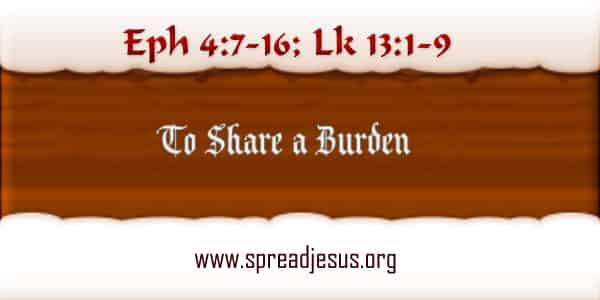 To Share A Burden:
Homily:
October 27 SATURDAY:
29TH Week In Ordinary Time Year-B
Readings: Eph 4:7-16; Lk 13:1-9
When others share our suffering, the harsh blows of life are softened. The changes and the chances of life can be better dealt with, when others join in and share the burdens. If such sharing grows to global level, there will certainly be less misery on earth. The followers of Christ are called to be examples of sharing the burdens of each other, at least within the Church. St Paul says (Eph 4:16) that the Church is like a body made up of many people with various talents and roles. As different parts of the body help each other for the welfare of the whole body, so we must help one another. When the hands want to thread a needle, the eyes come to collaborate. So too, believers have to support one another to carry out our respective duties. Let your stomach become upset, and your whole body feels the pangs of pain. So too, if one believer suffers, the reڑt have to feel it in some way, as if the whole community is suffering, and come forward to share the burden of the sufferer. To share a burden is to extend spiritual generosity. No burden is too heavy when shared by another. Sharing a burden tells the person that he or she is known, valued, and loved. Christ demands a high level of caring and sharing from his disciples.