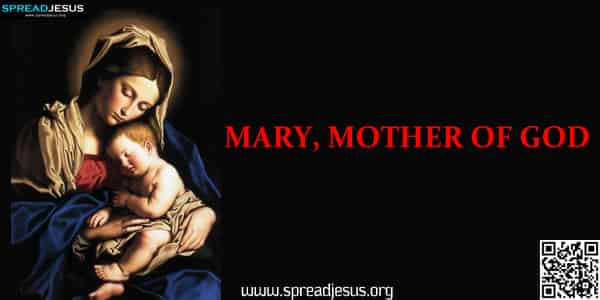 MARY, MOTHER OF GOD
God could not be everywhere, and therefore, He made mothers (Jewish Proverb)
Mother Teresa relates this incident about a boy. "Once I picked up a child and took him to our Children's Home; we gave him a bath, clean clothes, and everything. After a day, the child ran away. Somebody else found him, but again he ran away. Then I said to the Sisters: 'please follow the child and see where he goes when he runs away'. And the child ran away the third time. There under the tree was the mother. She had put a small earthenware vessel on two stones and was cooking something she had picked out of the dustbin. The Sisters asked the child: 'why did you run away from the Home?' And the child said, 'This is my home because this is where my mother is' ." True! Wherever our mothers are, there our home is.
Today, we celebrate the feast of Mary, Mother of God. Our mother church is ever mindful that we need the best model and guide for our journey through the year, and therefore, she offered Mary, Mother of Jesus on the first day of the year. As the dawn breaks and the New Year begins we are not alone; we have the Savior's Mother to protect and guide us through the year.
Mary is not only the Mother of Sorrows, but she is also the Mother of Victories. She went through life with a series of sufferings, but overcame them. The whole gamut of human sufferings she underwent. There is nothing, which you and I have suffered, which she had not experienced.
If you experience confusion in life, Mary, too, had experienced it in her life. When she was just a teenaged girl, the angel Gabriel appeared to her and informed that she would become a mother. Unheard in history - a virgin conceiving and bearing a son! How could such a thing happen? How would the society look upon her? These and myriad other questions would have haunted her, creating confusion in her. When the storms of confusion grew, she held on to her faith in God. Although, she did not understand what was happening to her, she still believed that God Almighty would calm the storm and steer her life safely.
If you experience insecurity in life, Mary, too, had one. No sooner was Jesus born, they were asked to flee their homeland because a tyrant - King Herod had determined to kill the New Born Child. They (Holy Family) fled to Egypt and lived there as refugees. The entire woes attendant on a refugee, they had to endure. Living in Egypt involved a lot of insecurity for the Holy Family. There was insecurity of life, of residence, of job, and myriad other uncertainties of life. Mary endured all these Sufferings.
If you experience pain and panic, Mary, too, had endured these. When Jesus was twelve years old, He got lost in the Temple for three days. After a day's journey, Mary and Joseph realized that Jesus was not there with them or their relatives. He had stayed back in Jerusalem. They went back making a day's journey and found Him after three days. The pain and panic before finding their Child would have been torturous.
If you are a single parent, struggling to earn and then look after the family, Mary, too, was like you. She lost her husband early in life, and had to look after the family by herself. Being a woman, without an earning male member in the family, she had to combine in herself the role of both an earning father and a caring mother for the family. A Herculean task, indeed! But she did it well.
If you are weighed down with the sickness of your loved one, Mary, too, was one. Rumors began to float that Jesus, her Son, had become mad. What anguish and agony would have gripped her heart, as she went searching for Him! Peace returned to her only when she found Him well.
If you are experiencing bereavement at someone's demise, Mary, too, had gone through it. When her Son was in the prime of Manhood, public opinion turned against Him, and they crucified Him as a criminal between two thieves. No sorrow in life is so painfully affecting as the pang of a mother at the death of her child. In the death of her Son, she felt the ultimate emptiness of a single parent, a beloved mother.
Mary endured all these sufferings and losses with a firm faith in the goodness of Yahweh. She did not understand many things in life, but she had faith in God. Through all her sufferings, she was not driven to despair in life, nor did she become bitter in life. She remained sweet and sensitive to the needs of others. She could understand pain and disappointment in others life. When the marriage party at Cana ran short of wine, she took the initiative of providing them some, and she provided the best wine through her Son. Mary's life is filled with sorrows and tragedies. Every twist and turn in her life is punctuated with sorrows, but she overcame all her sufferings. She is not only the Mother of Sorrows, but also, the Mother of Victories.
Mary is a great gift of Jesus to us. Jesus knew that His mother was great, and as a parting gift, He offered her to us as our mother. H.W.Longfellow wrote, "Even Jesus who died for us upon the cross, in the last hour, in the unutterable agony of death, was mindful of his mother, as if to teach us that this holy love should be our last worldly thought, - the last point of earth from which the soul should take its flight for heaven."
let the world have Mary as its Mother, it will have for itself good sons and daughters.