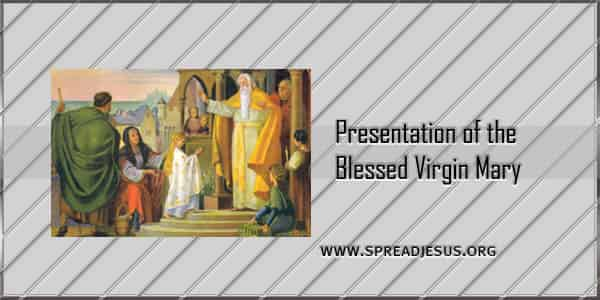 Presentation of the Blessed Virgin Mary
November 21

According to the Protoevangelium of St James (7:1-2), a 2nd century work, and the Gospel of pseudo-Matthew (4), neither of which is included in the Bible, Sts Joachim and Anna, in fulfilment of their vow, brought their three-year-old daughter Mary from Nazareth to the Temple in Jerusalem (a distance of some 80 miles), there to be educated by the holy women, and, together with the other young virgins, consecrated to God's service. As for the date of this feast, it is derived from the dedication of a ëhurch to Our Lady in Jerusalem on this day in 543.
Though unhistorical, this feast serves an important theological purpose. Continuing the impact of the feasts of the Immaculate Conception and the Nativity of Mary, it emphasizes that the holiness conferred on Mary from the very inception of her life on earth, and which continued through her early childhood and beyond, was a result of her total dedication to God. Our Lady reputedly revealed to St Elizabeth of Hungary how determined she was, as a little girl "to have only God for her father and often meditated on how she might please him most." She ardently desired an increase in grace and virtue, so that she might merit servant-hood, to be a happy virgin who was, before long, to become the mother of the long awaited Messiah. "You may think, perhaps, that I received grace and virtue without any effort; but I can assure you that God granted me none without great effort, constant prayer, ardent longing, tears and mortification on my part!" Ever the "handmaid of the Lord", it was by the practice of the virtues of humility, charity and obedience that she became a temple greater than any made by human hands. God indwelt in her in a marvellous manner and sanctified her for her unique role in his saving work. At the same time, her magnificence rebounds on us, her children we, too, are temples of God and as such are sanctified in order that we might share in his saving work.
St Alphonsus urges us to imitate Mary by becoming detached from all earthly things, even from our parents, and so to "present ourselves today to Mary without reserve". In heaven's temple, Mary presents our prayers to her Son and through her intercession we hope one day to be presented to him in glory.