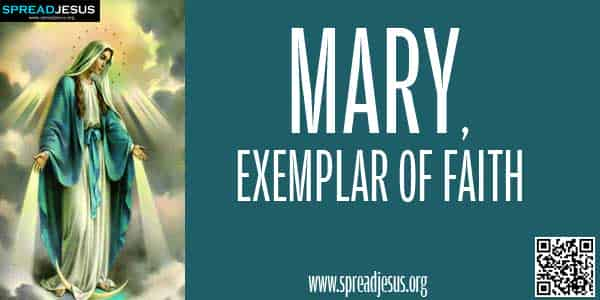 Mary, Exemplar Of Faith
"Luke 1:28 And coming to her, he said, "Hail, favored one! The Lord is with you."
Luke 1:29 But she was greatly troubled at what was said and pondered what sort of greeting this might be.
Luke 1:30 Then the angel said to her, "Do not be afraid, Mary, for you have found favor with God.
Luke 1:31 Behold, you will conceive in your womb and bear a son, and you shall name him Jesus.
Luke 1:32 He will be great and will be called Son of the Most High, and the Lord God will give him the throne of David his father,
Luke 1:33 and he will rule over the house of Jacob forever, and of his kingdom there will be no end."
Luke 1:34 But Mary said to the angel, "How can this be, since I have no relations with a man?"
Luke 1:35 And the angel said to her in reply, "The holy Spirit will come upon you, and the power of the Most High will overshadow you. Therefore the child to be born will be called holy, the Son of God.
Luke 1:36 And behold, Elizabeth, your relative, has also conceived a son in her old age, and this is the sixth month for her who was called barren;
Luke 1:37 for nothing will be impossible for God."
Luke 1:38 Mary said, "Behold, I am the handmaid of the Lord. May it be done to me according to your word." Then the angel departed from her."
The first and most important virtue we find in Mary is faith, the foundation of all other virtues. Jesus told Thomas "Blessed is he who believes without seeing" (Jn 20:39). When the angel announced that Mary would bear a son, she did not see how it was to happen (cf. Lk 1:34), yet she believed. And when she visited her cousin Elizabeth, the elder woman said, "Blessed is she who believed that there would be a fulfilment of what was spoken to her from the Lord" (Lk 1:45).
Humble though she was, her faith was strong enough to make her prophesy, "All generations will call me blessed" (Lk 1:48). This prophecy has been amply fulfilled in the Church's veneration of Mary, in the singular honour and devotion the faithful show her, and even in music and literature.
When Jesus was presented in the temple, Simeon told Mary that her Son would be a sign of contradiction, that a sword would pierce her soul (cf. Lk 2:34). When her child Jesus was lost and his parents found him in the temple he told his mother, "Did you not know that I must be busy with my father's affairs?" (Lk 2:49). This was indeed a heart-piercing. answer; Mary did not understand it, but she pondered over it in her heart (cf Lk 2:51).
At the marriage feast of Cana we see Mary's motherly concern. She interceded with her Son for the bridegroom. But his answer seemed to be discouraging, "O woman, what have you to do with me?" (Jn 2:4). Yet Mary believed with trusting faith; she told the servants, "Do as he tells you" (Jn 2:5). And he tells us: Take up your cross and follow me (cf. Mt 16:24). Once when Jesus was disputing with the scribes and the Pharisees, he was told that his mother and brothers were waiting for him. His reply must have been a shattering experience to Mary: "Who are my mother and my brothers? Anyone who does the will of God, that person is my brother and sister and mother" (Mk 3:33-34). None did God's will better than Mary, and so none is better qualified.