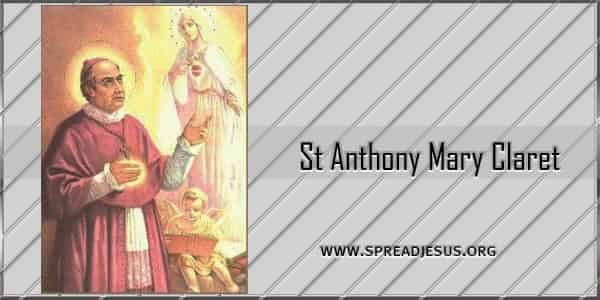 St Anthony Mary Claret
Bishop Confessor (1807-1870)
Saint Of the day October 24
Born the son of a small woollen manufacturer in Catalonia, Spain, on 23 December 1807 St Anthony started life as a weaver before studying for the secular priesthood. Ordained priest in 1835, he engaged principally in missionary work throughout his home-state and for a time in the Canary Islands, laying great emphasis on the Eucharist and devotion to the Immaculate Heart of Mary; his work on behalf of the poor was especially noteworthy. In 1849 a group of like-minded priests was formed by him into the "Missionary Sons of the Immaculate Heart of Mary", the Claretians.
In 1851 he was made Archbishop of Santiago in Cuba, and during his six years there reformed the seminary and improved clerical discipline; and on his many local missions throughout his diocese validated thousands of marriages. Keenly conscious of the importance and need to create material conditions favourable for a good Christian family life, he fostered sound farming methods and credit unions among the poor.
Recalled to Spain in 1857 to become, much against his wishes, the confessor of Queen Isabella II, he was exiled with her by the revolution of 1868. His apostolic successes so inflamed the hate of anti-clerical politicians in Spain and in Cuba that many attempts were made on his life.
A firm believer in a strong Catholic Press, he founded the great Religious Publishing House at Barcelona, which is famous for issuing millions of low-priced copies of the best Catholic works of ancient and modern times, including over 130 works from his own pen.
At Vatican Council I, on 31 May 1870, he spoke powerfully in defence of Papal infallibility. Claret died on 24 October 1870 at the Cistercian monastery of Fontfroide, France. His heart was found to have remained incorrupt at the time of the translation of his relics in 1897. He was beatified by Pope Pius XI on 25 February 1934 and canonized on 7 May 1950 by Pope Pius XII.