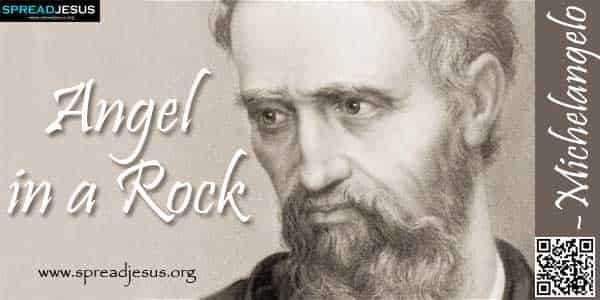 Angel in a Rock
Michelangelo, the great Italian artist and sculptor, was one day walking with some of his friends down one of the streets of his hometown, Florence. Suddenly he stopped short and began to stare at something in a far comer. His friends had not noticed and had walked on. When they suddenly did notice his absence, they looked back and saw him standing still and staring.
"Michel!" they shouted, "What is the matter?"
"Come and see!" he yelled beck excitedly.
They came but saw nothing, just a dirty block of marble half buried in the mud. "Can't you see?" he roared. "There is an angel imprisoned in that block of marble! Bring me my hammer and chisel quickely !"
They brought him his tool. And in a short time, where before there was but a rock of hard dirty marble, now stood a beautiful angel!
Like Michelangelo, the holistic guide sees the marvellous beauty and the gracious unfolding of God's specific plan in the seeker. He chisels out all the unnecessary burdens and carefully brings out the unique vocation.