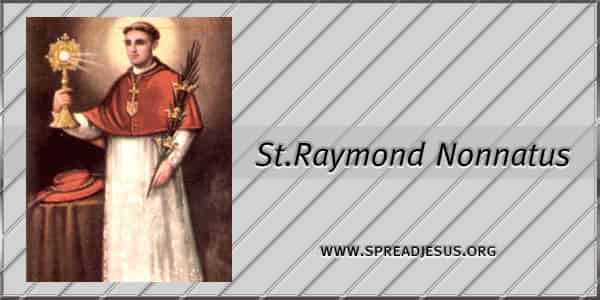 St Raymond Nonnatus Confessor (1204 -1240) Saint Of the Day August 31
St Raymond ("Ramon" in Spanish) bears his surname Nonnatus (non natus, i.e., not born) from having been delivered surgically after his mother had died during his birth. His family, though poor, belonged to the Catalonian nobility. He joined the young Order of Mercedarians at Barcelona under their founder St Peter Nolasco and was so remarkable for his zeal and piety that he was before long made Master General and Ransomer.
As such he went to Algiers and redeemed many Christian slaves. But when all of his funds and those collected by his Order for that purpose were exhausted, he offered himself as hostage so as to set free some more unfortunates. In prison he underwent terrible misery, and when he insisted on trying to convert his jailers, the infuriated Mohammedan authorities padlocked his lips together. His Order was finally able to redeem him and he returned to Spain in 1239.
He was created Cardinal by Pope Gregory IX but he died on his way to Rome on 30 August 1240 aged 36 and was canonized by Pope Alexander VII in 1657. Women in childbirth, midwives, and people who have been falsely accused, invoke St Raymond's aid, and the Church blesses candles and water for the sick in his honour.