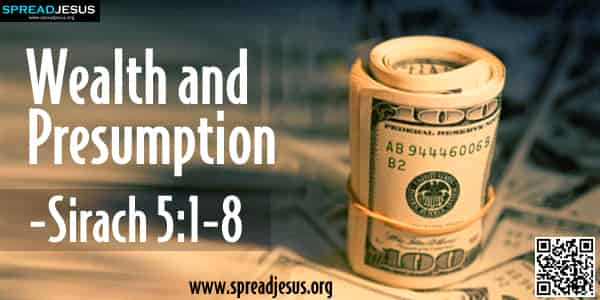 Wealth and Presumption - Sirach 5:1-8

(Precepts for Everyday Living)
Do not rely on your wealth; do not say, "I am self-sufficient."
Do not let yourself be carried away by your desires and power in pursuing the passions of your heart.
Do not say, "Who can stop me?" for the LORD will certainly punish you.
Do not say, "I have sinned, but nothing has happened!" for the LORD'S forbearance is long.
Do not be so sure of pardon that you heap sin upon sin.
Do not say, "His compassion is great; he will forgive the vast number of my sins." For with him are mercy and anger, and his fury will be poured out on sinners.
Do not delay your return to the LORD, do not put it off from day to day.
For suddenly the anger of the LORD will blaze forth, and you will perish on the day of reckoning.
Do not rely On riches wrongfully acquired, for they will be of no use to you on the day of wrath.
Wealth and Presumption - Sirach 5:1-8