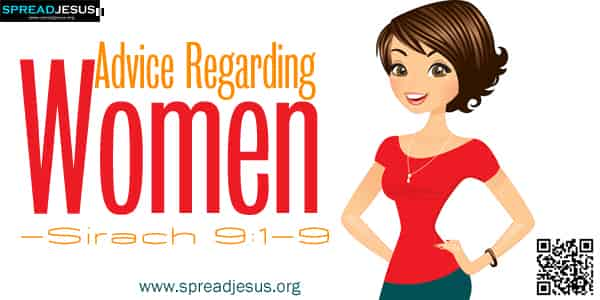 Advice Regarding Women-Sirach 9:1-9
(Advice concerning Women)
Do not be jealous of the wife you love, lest you teach her how to disgrace you.
Do not put yourself into the power of any woman to the point where she can dominate you.
Do not go near a woman of ill-repute, for fear of falling into her nets.
Do not dally with a singing girl, for fear of being caught in her snare.
Do not fix your gaze on a young girl, lest you be involved with her and pay the bride price.
Do not deliver yourself into the power of prostitutes, lest you lose your inheritance.
Do not glance around in the streets of a town; do not loiter in lonely places.
Turn your eyes away from a good looking woman, and do not stare at beauty belonging to another.
For the beauty of a woman has caused many to fall, and in her presence passion blazes up like a fire.
Never sit at table with a married woman or drink wine with her, for fear that your feelings towards her be roused, and that in your passion you slide towards your downfall.
Advice Regarding Women-Sirach 9:1-9