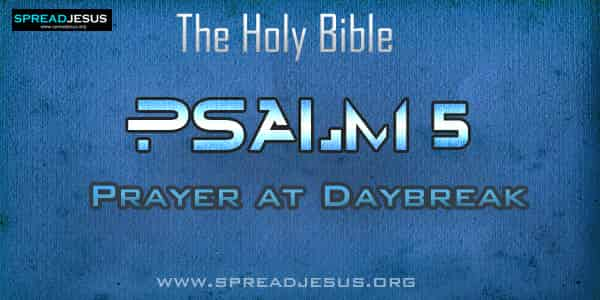 Psalm 5
Prayer at Daybreak (A Psalm of David)
Psalm 5:1 O LORD, listen to my words, and see my distress, my sad plight,
Psalm 5:2 Give heed to my cry for help, my King and my God, for to you I pray.
Psalm 5:3 O LORD, at daybreak you hear my voice; at daybreak I place my case before you and wait expectantly.
Psalm 5:4 You are not a God who delights in wickedness; evil has no place in you.
Psalm 5:5 The arrogant cannot stand before you. you hate all who do evil.
Psalm 5:6 you destroy all who speak falsehood; the LORD detests those who thirst for blood and live on lies.
Psalm 5:7 But I, by your abundant love, will come into your house. In reverence I bow down and worship at your holy temple.
Psalm 5:8 Lead me, O LORD, through your path of righteousness; make your way straight before me, for my enemies are lying in wait.
Psalm 5:9 Not a word of their mouth can be trusted, for their heart is full of mischief. Their throat is an open grave; their tongue flatters with deceit.
Psalm 5:10 O LORD, make them suffer from their guilt; let their own snares trap on them. Cast them out for their many sins, for their offence and rebellion.
Psalm 5:11 But let those who take refugein you rejoice; let them ever sing for joy. Let your deliverance shield them, that those who love your name may praise you in gladness.
Psalm 5:12 You, O LORD, bless all who are righteous; you cover them with your favour as with a shield.